MBA Full Form – What is MBA?
What is MBA Full Form, what is MBA, what is the eligibility for MBA, what is the top entrance exam for MBA, what are the job fields after MBA. If you are looking for answers to these questions related to MBA, then this post is for you only. Today I am going to give you information about MBA in this post.
I hope that whatever you want to know about MBA, you must get it in this post. If you want to understand better about MBA, then definitely read this post completely. Friends, in one such post, I told you about BBA. BBA is a course from which you learn the methods and rules of business management after getting the degree of Graduation.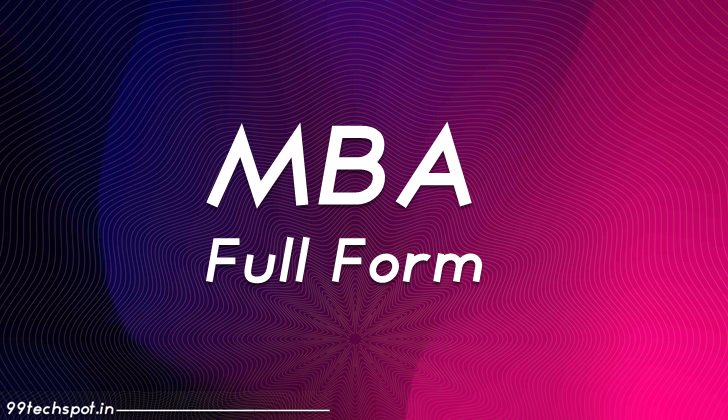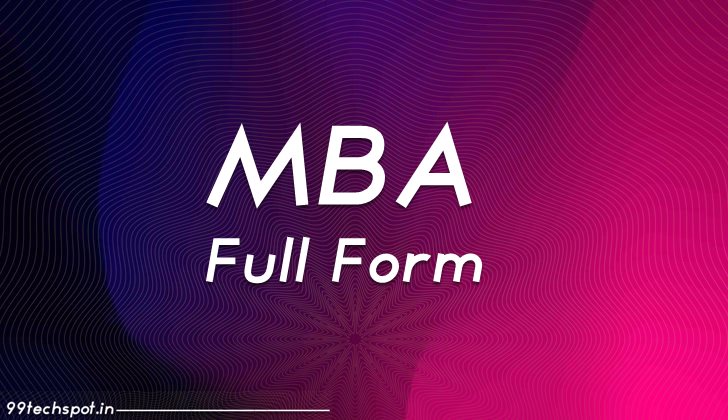 If you want to learn more at Master Level in Business Management, then you can apply for MBA. Let us know what is MBA Full Form in Hindi and what is MBA.MBA or Master of Business Administration is a two-year full-time degree programme that deals with various general management and business practices based on real-world issues.
An MBA degree is one of the most popular and sought-after higher management education options, especially for those who want to get into a managerial role. Those who complete their MBA programme are some of the top earners in the management sector. Having a management degree also paves way for those who are interested in rising to the topmost position in the company. 
MBA admission in India is based on a student's academic and professional profile in addition to MBA entrance exams and GD-PI rounds But still, they still remain confused. In such a situation, if you also want all the information related to MBA course that you need, then in this article of ours you will get answers to all your questions. This article will be very beneficial for you. Let us first tell you the full form of MBA. After that others will give information related to this.
Read also-VIP Full Form in Hindi – VIP और VVIP का क्या मतलब होता है?
What is MBA Full Form in Hindi and what is MBA?
MBA Stands for "Master of Business Administration". MBA is called "Post Graduate in Business Management" in Hindi. This is a Master Degree in Business Management.
Its course duration is of 2 years. In these 2 years, the student is made a master in all the subjects of Business Management. After these 2 years you become trained and professional in business management.
In its first year, you are proficient in all the subjects of MBA, they are told about them and in its second year the student has to choose any one of all the subjects. The subject of which he is made a master.
It is done only after graduation is completed. This course was started in the 20th century at the time of industrialization of the country in the US. This course covers many areas of business like –
Accounting, Applied Statistics, Business Communication, Business Ethics, Business Law, Finance, Managerial Economics, Management, Entrepreneurship, Marketing and Operations
Read also-What is IGST full form ? | How it will work ? Quick explanation
Eligibility for MBA
For this it is very important to complete your Graduation.
You should have at least 50% marks in your graduation and 45% marks for SC/ST people.
You have to go through some entrance exam to take admission in MBA.
Read also-MP4Moviez 2021 – New HD Mp4 Movies, Latest Movies Hindi full Hindi Dubeed.

Top Entrance Exam for MBA
CAT (Common Admission Test)
XAT (Xavier Aptitude Test)
CET (Common Entrance Test)
CMAT (Common Management Admission Test)
MBS (Mumbai Business School Entrance Exam)
APIME (Asia Specific Institute of Management Exam)
IGNOU OPENMAT (Open Management Admission Test)
IIFT (Indian Institute of Foreign Trade)
Job Fields after MBA
Although there are many job fields after MBA where we can work, but the names of some main job fields are as follows-
Management
Marketing
Human Resources
Finance
Accounting
Sales
Career in MBA
In today's time, the career scope in the MBA sector is very good, because many domestic and foreign companies are expanding their business here, so they need a good business manager or corporate manager, who can manage their business. And help them in the growth of their business.
There is no shortage of businessmen in India, these people are continuously increasing their business, so to handle and manage their business, an MBA degree holder is needed. Management experts have a very important role in taking any business to the heights. At present, you should not have any kind of doubt regarding the scope of the career in this. If you just have talent then there will be no shortage of jobs. There will be more than one job for you.
There is a shortage of jobs for such people, who have only degree, but do not have any kind of knowledge and skill related to that field, so tell me how to get a job. You do not know anything about the work for which you are being paid. Therefore, if you want to become a career in the sector of a successful business, then learn the nuances of business management.
MBA Course Duration
Duration of this course is of 2 years. In this, all types of knowledge related to business management are given. So that after doing the course. After you can lead this field.
Qualification for MBA Course
For this course, candidates must have graduation in any stream.
Admission Process in MBA
The process of admission in this course is something like this, as if you want to do MBA from an institute like your IIM, then here you get admission through entrance exam, but its exam is also very difficult.
Apart from this, there are other private and government colleges, which are of some lower category than IIMs, where admission is also available through entrance exam. All other private colleges offer MBA courses, where direct admission is available, you should not do a course from such a college.
Here you get a degree, but you do not get that skill and knowledge, which is needed in the industry. Because of this, many people are roaming unemployed even after doing MBA. Now you must have got MBA full form in hindi and basic information related to it. Let us now know how many branches are there in MBA.
Read Also – KYC Full Form in Hindi – What is KYC?
MBA Course fees
The fees for this course differ from college to college. Which ranges from one lakh to 10 lakh. If you are poor and cannot afford the expensive fees, then you should do MBA course from Government College.
Career Option in MBA
There is no dearth of career options in this, just from whichever branch you have done MBA, you will get a job in the same field. For example, if you have done your MBA in Airlines, then you will get a job in this field at Airport Manager or other similar level post.
Intrance Exam for MBA Course
You get admission in MBA course through CAT, MAT, CMAT, XAT, GMAT, NMAT, ATMA, SNAP etc. Apart from this, there are other state level and university level entrance exams, through which you can take admission in MBA course.
Salary in MBA
If you have done MBA course from institute like IIT and IIM and you have excellent knowledge and skills then you can get salary offer up to 1 lakh per month. By the way, if you have done MBA from a lower category college, then there you start getting 25 to 30 thousand rupees in the beginning. Salary also increases with experience.
Best MBA College in India
All IIM Colleges
All IIT Colleges
Banaras Hindu University
Aligarh Muslim University
Chhatrapati Shahuji Maharaj University Kanpur
Motilal Nehru Institute of Technology Prayagraj, etc.
Read also –