What is LTE Full Form in Hindi?
What is LTE Full Form in Hindi, what is LTE, what is the use of LTE, what are the features of LTE, what is the difference between LTE and VoLTE. If you are looking for answers to these questions related to LTE, then this post is for you only.
Today I am going to give you information about LTE in this post. I hope that whatever you want to know about LTE, you must get it in this post. If you want to understand better about LTE, then definitely read this post completely.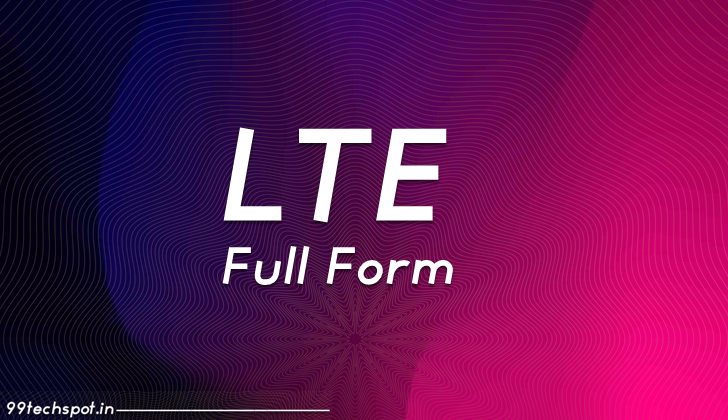 Friends, I believe that in today's era no one will be deprived of 4G. Almost everyone in India must have heard the word 4G and there is hardly anyone left who does not have or use 4G Handset.
Whenever we talk about 4G, then the word LTE also comes to our hearing or whenever you go to buy a Smartphone, then you must have seen LTE Enabled written on it. So let's know what is LTE Full Form in Hindi and what is LTE.
Read also-LGBT Full Form in Hindi – LGBT और LGBTQ का क्या मतलब होता है?
What is LTE Full Form in Hindi and what is LTE?
LTE Stands for "Long-Term Evolution".
LTE is called "Long Term Development" in Hindi. It is the standard of High Speed ​​Wireless Communication for Mobile or Data Terminals.
It is based on GSM/EDGE and UMTS/HSPA Technologies. It increases speed and capacity by using a different radio interface with Core Network Improvements.
You must have heard both LTE and 4G together. Many people consider them to be the same but it is not so. LTE is the standard of that technology and 4G is the fourth generation of Internet.
Read also-ANI Full Form in Hindi – ANI News Agency क्या है?
Features of LTE
Its Maximum Download Speed ​​can be 299.6 Mbps and Maximum Upload Speed ​​can be up to 75.4 MBPS.
When we talk to someone, it provides us HD Voice Quality.
It takes less time to setup than the previous technologies.
It supports FDD and TDD Communication System as well as Half-Duplex FDD with the same Radio Access Technology.
It supports all frequency bands used by IMT.
Its Radio Interface is Packed Switched.
Read also-VIP Full Form in Hindi – VIP और VVIP का क्या मतलब होता है?
Difference Between LTE and VoLTE
Many times we get confused in LTE and VoLTE, what are they and what is the difference between them and you must have also seen LTE Enabled VoLTE Enabled written on many Smartphones.If there is an option of LTE on a phone, then you can use 4G Internet on that phone, but it may make it a little difficult for you to make voice calls. when you have to call someone
So you have to keep your phone's data on. Because it can do voice call only through data. Jio's Case Data has to be kept on and also an application has to be installed.If a phone has the option of VoLTE, then you can use 4G Internet on that phone as well as you can also make voice calls without turning on data. Its full name is Voice Over LTE.
LTE Benefits
There are many ways LTE is compared to older technologies –
Improved upload and download speed.
Low data transfer latency.
Enhanced support for mobile devices.
More scalable, such that there can be more devices connected to an access point at the same time.
It is refined for voice calls through the use of Voice over LTE (VoLTE).
Read Also – ISC Full Form in Hindi – ISC क्या होता है?
How to use LTE?
Taking advantage of LTE requires two things: a phone and a mobile network that supports it. This means that you need to make sure that your device is LTE compatible. Not all devices have the necessary hardware to connect to an LTE network. You can be confident that newer phones do, but that's not the case for older ones.
LTE phones can be called 4G LTE. If your phone doesn't work on LTE networks, you're stuck having to replace your device or settle for slower-than-LTE speeds. Beyond the phone, of course, a service provider that can deliver LTE technology to your device. You must be in an LTE coverage area to use the service, most companies provide LTE coverage maps so you can see if you can get LTE before you buy.
Read Also – UKG Full Form in Hindi – U.K.G. का Meaning क्या है?
Volte – Voice over Long Term Evolution
Volte stands for Voice over Long Term Evolution (LTE). It is a standards-based technology developed to support voice calls over LTE networks. It delivers high-quality voice communications, video calls, messaging and data over 4G wireless networks or 4G Long Term Evolution (LTE) networks for mobile and portable devices.
It defines standards and procedures for delivering voice communications and data over 4G LTE networks. When you make a call using a VoLTE supported phone, the voice is routed over the carrier's high-speed data network instead of your voice network.
Thus, it offers better call quality, faster call connectivity and the ability to use voice and high-speed data at the same time. However, you need to use a phone that supports VolTE in an area with 4G LTE service, and the person on the other end must have similar features.
Read Also – MBBS Full Form In Hindi | MBBS Ka Full Form
How does VoLTE work?
In VoLTE the calls are made over the IP network provided by the 4G network. It uses your 4G data connectivity to send data packets for voice calls, e.g., when you make calls using the Internet like WhatsApp calls, Skype calls, etc.
VoLTE allows voice traffic to be carried over IP networks (IP to IP based networks) using IP packets. It carries your calls as a stream of IP packets over the data connection. So, it mainly works on IP-based networks and supports only packet switching.
Read also –
Hello Friends, I hope you would have liked this LTE Full Form in Hindi – What is LTE post. If you have any query or suggestion related to this post, then comment below and share this post with your friends.