What Is UTGST Full Form ? Full Details about UTGST
We discuss a lots about GST, and their types are SGST, CGST, IGST full form; this also includes UTGST full form, which means to be Union Territory Goods and Services Tax.
This act also vested on 1st July 2017 as above other acts. Let's made a small discussion about UTGST full form.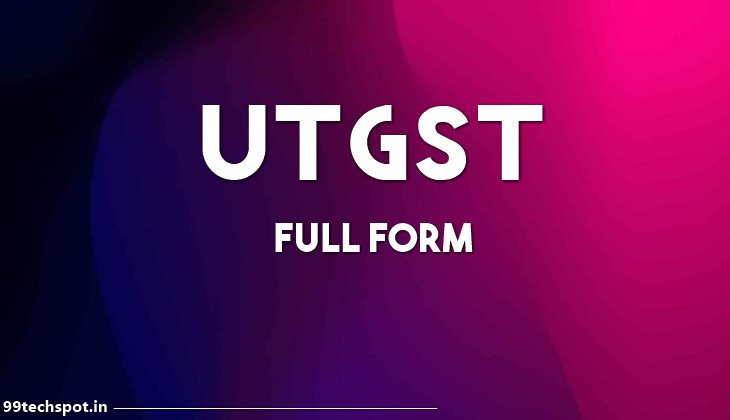 UTGST full form, as we see in the name of this complete form, reflects Union Territory. The first explanation we began with the meaning of Union Territory.
Read Also – CAA Full Form Threatens Constitution of India and Foundation of Country
HISTORY OF UNION TERRITORY UTGST FULL FORM:
In the far time ago, at the time India becomes independent in 1947 the about 565 states separated.
In this separation, all state is bound in one country but some small states which are not part of India at the time of independence.
Those territories which are not compatible for formation in a state as per the terms and condition of state describe in the Constitution India.
After that, the region has not capable as a state because of having not stable and balanced in the economic sector, the financial industry, etc.
This observation made by the government decided to those states not survive without the help of the Union Government.
Hence, the territories under controlled of the Union Government, all rules of the Central Government directly applied on those territories.
That is why the territories called as "Union Territories."
Note:- This recommendation made by the State Reorganisation Commission in 1956.
Read Also – What is Podcast Full Form ? Personal demand on the broadcast !
APPLICABILITY ON JAMMU & KASHMIR AND LADAKH:
India scrapped the article 370 on Jammu and Kashmir which considered Jammu and Kashmir as special state in the Constitution.
After that, Jammu and Kashmir Reorganisation Act 2019 as per this the Jammu and Kashmir becomes divided in two Union Territories.
Then, Jammu and Kashmir and Ladakh now in existence as Union Territories. The existence date or appointed date on 1st October 2019.
Hence, now India having Eight Union Territories where Jammu and Kashmir its own legislature while Ladakh without legislative assembly.
In short, the Ladakh levied for UTGST as per the conditions of UTGST .
While Jammu and Kashmir continues as the rule of state so the applicability of SGST and CGST in intrastate supply.
Besides, interstate transaction between Jammu and Kashmir and Ladakh considered as IGST act as normal rule of GST.
As well as on Ladakh without legislative assembly its chargeable under UTGST as intrastate supply UTGST and CGST applicable.
Now the Jammu and Kashmir Goods and Services Tax Act 2017 represents Jammu and Kashmir Union Territory Goods and Services Act 2017.
Read Also – NASA Full Form | Research Centers, Missions, & Spacecraft (1958)
Union Territories In India UTGST Full Form:
In India several Union Territories are Eight there are as following
Merger Bill of Dadra And Nagar Haveli & Daman and Diu 2019:
The Dadra and Nagar Haveli in Maharashtra and Daman and Diu in Gujarat merged in one Union territory as per 2019's bill.
Indian Constitutional Amendent,
In first schedule of Indian Constitution states that territories comes under provison of states and union territories.
At first the merger bill 2019 amended this First Schedule of the Constitution which contains two different union territories.
This amendment amended Article 240(1) with the Dadra and Nagar Haveli and Daman and Diu (Merger of Union Territories) Bill 2019.
The amendment changes the status of two union territories into one union territory so called Dadra and Nagar Haveli and Daman and Diu.
Passed Bill in Parliament,
The Dadra and Nagar Haveli and Daman and Diu (Merger of Union Territories) Bill 2019 comes in effect on 26 January 2020.
The merger bill 2019 present in Parliament the Upper House (Rajya Sabha) on the date November 27, 2019.
Next the Lower House (Lok Sabha) the bill passed successfully on December 03, 2019.
Section 2(114) CGST Act 2019, 'Union Territory' means,
Chandigarh
Delhi
Daman and Diu
Dadra and Nagar Haveli
Pondicherry or Puducherry
Lakshadweep
Andaman and Nicobar
Jammu and Kashmir
Ladakh
Note: On Delhi and Pondicherry also Jammu and Kashmir not included in the criteria of UTGST, it considered as State in UTGST.
Read Also – Sap full form / wWhat is the full form of sap?
State Versus Union Territory:
States having their governments instead of union territories are under the control of the Central Government.
Delhi and Pondicherry have union territories with their legislative assembly. Hence they are not applicable for UTGST Full Form.
Union territories directly ruled under there appointed Governor by the Central Government. (A Lieutenant Governor.)
Note: UTGST on applicable to those union territories who have without legislative power that means only Five UT's applicable under UTGST.
Read Also – Ok Full Form in Hindi ओके का फुल फ्रॉम क्या है
UTGST Full Form Levied On:
UTGST levied on all intrastate supply of goods and services between two territories.
The amount excludes alcoholic liquor for human consumption.
Supply of natural gas, petroleum crude, high-speed diesel, motor spirit, and aviation turbine fuel on all UTGST levied.
Rates Of UTGST:
GST council recommended to the Central Government to get notified with slab rate of UTGST Full Form at the rate of 0%, 0.125%, 1.5%, 2.5%, 6%, 9% and 14%.
Rates of UTGST are at the highest-paid rate is at 20%.
Read Also – जीडीपी क्‍या है ? GDP Full Form In Hindi
---
What Is Utgst?
The UTGST Act 2017, Union Territory Goods and Services Tax. This act only implemented on union territories of country. This mainly includes India's eight union territories except three union territories which are not include in the criteria of UTGST.
In which State Is Utgst Applicable?
The UTGST Act applicable on those union territories which having not its own legislative assembly. The Utgst applicable on Six state of India that may like Lakshdweep, Andaman and Nicobar, Chandigarh, Dadra and Nagar Haveli and Daman and Diu and Ladakh.
Is Utgst Applicable In Jammu And Kashmir?
No, there is not applicable UTGST for Jammu and Kashmir because it is not considered in criteria of UTGST. The Jammu and Kashmir having its own legislative assembly so there applicability for SGST act.
Read Also – एनसीसी की फुल फॉर्म क्या है | NCC Full Form In Hindi
Is Delhi A State or Union Territory?
As per the governments rule Delhi is capital of India and it in controlled of Central Government. Hence, Delhi is an Union Territory instead of the state having its own legislative assembly, its own state government so there is levied SGST acts rule.