Kapil Sharma Biography Became Comedy King of India
Kapil Sharma Biography & Success Story in Hindi: The name of Kapil Sharma resides in the hearts of crores of people today.
This is the power due to which the whole of India is filled with laughter. You will find few people laughing in the world and one of those people also comes with the name of Kapil.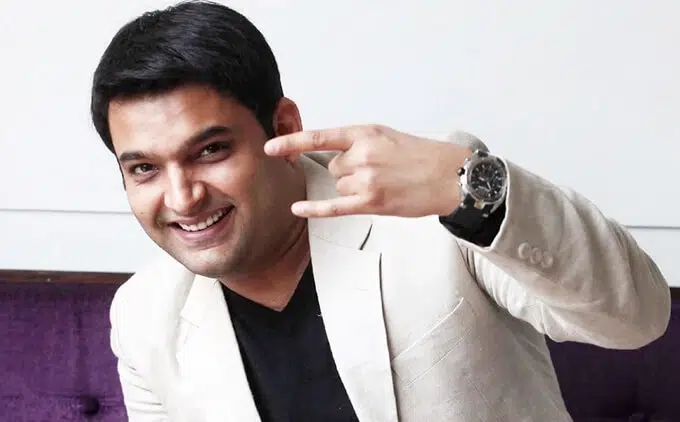 Kapil Sharma is a stand-up comedian (comedian) as well as a TV presenter, actor and singer.
Kapil ji has a magical bundle of laughter, which he opens and makes everyone laugh and people forget their sorrow and pain and laugh with open hearts.
Kapil ji has made his place not only in our India but also in the hearts of people outside the country and is known today as "Comedy King of India".
Behind every successful person there is a hidden painful story, Kapil's life also has a similar story.
How was his life before becoming a famous comedian, today we will know this article through the biography and life story of Kapil Sharma.
Read also – Technical Masterminds | Biography | Income | Real Name
Kapil Sharma Biography
Kapil Sharma was born on 2 April 1981 in Amritsar city of Punjab. He was born in a middle class family, his father Jitendra Kumar was in the post of head constable in Punjab Police and his mother Janak Rani was the house wife.
Kapil ji has his elder brother and a sister in his house. Kapil Sharma has been very mischievous since childhood and he was very fond of watching TV. While watching TV, he used to imitate the actors and also used to dance after watching the songs.
From his childhood, he used to make people laugh with his antics, then he did not know that one day he would make the whole world laugh with his jokes.
Read also – Shahrukh Khan Net Worth, Car Collection, House, Brand Biography
Education Of Kapil Sharma
Kapil Sharma started his studies at Shri Ram Ashram Sen Secondary School in his own city, Amritsar.
During his school days he used to take part in many cultural activities. And since then he is very fond of acting and drama.
After completing his 12th studies, he took admission in the Hindu College located in Amritsar to complete his further studies.
Even in his college, he used to take part in every activity and from childhood he was also interested in singing and he was also dreaming of becoming a singer when he grew up.
His father also had the same dream that Kapil would go on to become a famous singer. He also used to sing songs in his college functions.
And along with him the boys of the college used to make girls laugh by listening to jokes. Because of this Kapil ji was liked by all the children.
From his classmates to all the teachers in college appreciated the talent settled in him, due to which the interest of acting in Kapil started increasing.
Read also – MeeraBai – Biography OF Sant Meerabai
Kapil Sharma's Bad Days
Playing in school and college, Kapil ji completed his studies. Then suddenly one day due to painful news.
His senses were blown away when he came to know that his father had cancer. To get his father treated, Kapil took him to AIMS, the best hospital in Delhi.
But unfortunately his father passed away in the year 2004, Kapil ji was just 23 years old then. On him and his family, a mountain of sorrow broke.
He belonged to a middle-class family and there was only one earning person in the house, who used to run his house.
After the death of his father, his job could have been given to one of the sons of the house, then Kapil's mother asked him to do that job, but Kapil ji's dream was to make something else.
So he decided to take this job. Then his elder brother Ashok Sharma joined the Punjab police instead of his father.
Read also – Sophia Ansari Net Worth, Biography Career, Physique – सोफिया अंसारी
Kapil Sharma's Career (Journey Of Comedy King)
Due to lack of money, Kapil ji was not able to join acting course. Seeing the talent growing within him.
Many institutions gave him money for doing acting courses. Kapil moved to Mumbai to start his career and joined the theater.
There he used to act and in return he used to get a little money. But Kapil was also unhappy with this work of his.
One day he saw the famous comedian Gurpreet Singh of Punjab doing comedy and Kapil liked his comedy very much and being impressed by him, Kapil also decided to start his career in comedy.
Kapil Sharma participated in a new TV show "Hasde Hasande Raho" in 2005 and reached there to audition.
.Read also – Sourav Joshi Vlog , Income Car, Girlfriend, Family, Age, Bike. Oreo Sourav Joshi Dog Breed, Address.
But in the beginning Kapil was rejected from there. Even after being expelled from there, Kapil ji did not give up and started working hard to improve himself.
Kapil used to work hard day and night and today he has made himself so capable that millions of people yearn to meet him.
With full preparation and hard work, Kapil ji again took part in TV's famous program "The Great Indian Laughter Challenge" in 2007. There he gave an audition and this time he got selected.
With his artwork, Kapil ji had started the hearts of people in this show and in the 3rd season of this show, Kapil Sharma was declared the winner. This was the moment from where Kapil Sharma had taken his first step towards success.
On becoming the winner, Kapil got 10 lakh rupees in prize and Kapil married his younger sister Pooja Sharma with pomp and heart and fulfilled the duty of being a brother with that hard earned money.
Kapil Sharma now went ahead to fulfill his dreams and took the responsibility of making people laugh and make them happy.
It is said that keeping people happy is the most virtuous work and to earn this virtue, Kapil worked very hard.
And see today it is the miracle of the same hard work that he is touching the heights of the sky and ruling the hearts of millions. There are.
Read also – M4UHD – Download & Watch Free HD Movies on m4ufree
After the first victory of Kapil Sharma, everyone started recognizing him and he started getting offers to host many shows.
The first show that Kapil ji hosted was a comedy show named "Chhote Miyan". Then in 2009, Kapil ji also hosted another show "Hans baliye".
Gradually, Kapil ji went on climbing the stairs of his success and to show a new form of his comedy, he took part in a famous show "Comedy Circus".
By playing different characters, he made people laugh and laugh and with the same Kapil ji became the winner of two seasons of Comedy Circus.
He was accustomed to winning, along with the show, he also went on to win the battle of his life's struggles.
After showing the form of a stand-up comedian to the people, Kapil ji decided to fulfill his childhood and his father's wish and in the year 2011.
He took part in the "Star Ya Rockstar" singing talent show and told everyone that the importance of being a comedian Along with this he is also the king of notes.
Even though he did not win the title of singing in this show, but almost all the great singers of the Bollywood world have praised Kapil's singing, which is nothing less than a victory for Kapil.
Kapil Sharma hosted the season 6 of "Jhalak Dikhla Jaa" together with Manish Paul and also hosted some episodes of Big Boss by Kapil ji.
In the industry, both his name and fame had started growing very fast. After making his identity, Kapil launched his own production house "K9 Production".
In 2013, within the same production, he started a new show on Colors channel "Comedy Nights with Kapil", whose position as writer, producer, director and host was himself handled by him.
This show had become the most famous show of that time. People used to wait eagerly for the whole week to watch this show every Saturday and Sunday. The TRP of Kapil Sharma's show was the highest in the world of Indian Television.
Read also – 123Movies 2021 – Watch Free HD Movies Online On 123Movies
Kapil invited Bollywood's big actors and actresses, veteran singers and cricketers to his show and did a lot of talking and laughing with them, which the audience was very fond of.
Once, unfortunately, there was a fire in his new set, due to which Kapil had to face a lot of problems but Kapil ji still did not give up and re-erected his set again and without stopping he resumed his work.
Kapil Sharma was honored with the "Entertainer of the Year" award in 2013 due to this skill.
He also started getting many offers from the film industry and director Abbas Mustan signed Kapil ji for the lead role in his comic film "Kis Kisko Pyar Karu".
Kapil's film got a lot of success and now another new film of Kapil ji is also going to hit the big screen soon.
Kapil Sharma's name is included in the Top 100 Celebrity magazine of Fox India magazine today.
Kapil's show Comedy Nights with Kapil came to an end only last year. And on 23 April 2016, his new show "The Kapil Sharma Show" started on Sony channel.
Which people are liking even more. Kapil ji is slowly touching the heights of success in the same way and fulfilling all the dreams of himself and his family.
Read also – 123Telugu | 123 telugu Hd Telugu, Tamil , Malayalam Tamil Movies For Free
What You Learned Today
Hope you like this article Kapil Sharma's Biography and Success Story. And from this article, we get the lesson that no matter how big the trouble may be, without giving up, if we are determined to fulfill our dreams in any case, then no power in the world can stop us from achieving our destination. .
Tell us how did you like this article, we will be very happy to hear your words.
Read Also –