Jahangir History in Hindi | History of Jahangir
History of Jahangir – Jahangir was a very fond of a colorful mood, the Mughal emperor, whose glory-o-shaukat was quite famous. However, he had given up many of his bad habits after ascending the Mughal throne. The real name of Jahangir was Salim, who was later given the title of Jahangir. Which meant – conqueror of the world.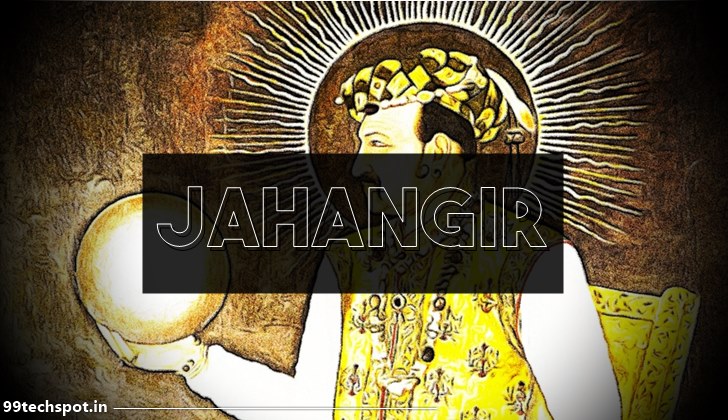 Jahangir was one of the eminent Mughal rulers, who handled the Mughal Empire for many years, and expanded the Mughal Empire like a good Mughal emperor. Jahangir greatly expanded his empire to Bengal except Kishwar and Kangra,
although Jahangir's reign did not include any major battles or any major achievements.Mughal Emperor Jahangir is also remembered for the "chain of justice" built in Agra. Let's know some important things about the life of Mughal Emperor Jahangir –
Read Also – Apna Khata Rajasthan Status, Login Jamabandi, Nakal, Details
History of The Great Mughal Ruler Jahangir – Jahangir History in Hindi
| | |
| --- | --- |
| Name | Mirza Noor-ud-din Baig Mohammad Khan Salim |
| Birthday | 31 August 1569, Fatehpur Sikri, Mughal Empire |
| Death | 28 October 1627, Rajori, Kashmir |
| Father Name | Akbar |
| Mother Name | Mariyam |
| Wife Name | Noor Jahan, Sahib Jamal, Jagat Gosain, Malik Jahan, Shah Begum, Khas Mahal, Karamsi, Saliha Banu Begum, Noor-un-Nissa Begum, |
| Children | Khusro Mirza, Khurram Mirza (Shah Jahan), Parviz Mirza, Shahriar Mirza, Jahandar Mirza, Ifat Banu Begum, Bahar Banu Begum, Begum Sultan Begum, Sultan-un-Nissa Begum, Daulat-un-Nissa Begum, |
Birth and Early Life of Jahangir – Jahangir Biography In Hindi
The Mughal Emperor Jahangir was born on August 31, 1569, as the son of the Mughal Emperor Akbar, in the hut of Sheikh Salim Chishti, located in Fatehpur Sikri. Jahangir's mother's name was Mariam Uzzamani. Before Salim, none of Akbar's children survived, because of which Emperor Akbar made a lot of pleas and then Salim was born. In childhood, Jahangir was called by everyone as Sultan Muhammad Salim.
Let us tell you that the Mughal emperor Akbar had named his son after Shaikh Salim Chishti of Fatehpur Sikri. The Mughal emperor Akbar, from a very young age, started efforts to make his son Jahangir skilled in military and literature. When he was just 4 years old, Emperor Akbar appointed a scholar teacher like Abdul Rahim Khan-i-Khana, son of Bairam Khan for him.
From which Jahangir had received education in history, arithmetic, geography, Arabic, Persian, and science, due to which Jahangir became scholar in Arabic and Persian. According to historians, the relations of Jahangir with Emperor Akbar were not good.
Due to many reasons including power, Jahangir also hatched a conspiracy against his father Akbar several times and tried to revolt, but later both the father and son had made an agreement between themselves. However, after the death of Akbar, Jahangir was entrusted with the royal throne of the Mughal throne.
Jahangir Marriage And Children –
Being Akbar's only heir and brought up in luxuries, Jahangir was a very fond and colorful-tempered ruler, who had about 20 marriages, though his most loved and favorite was Begum Nur Jahan. At the same time, many of his marriages also took place for political reasons.
At the age of 16, Jahangir's first marriage was to Manbai, the princess of Bhagwan Raj, the king of Amer. From whom they had two sons. At the same time, at the time of the birth of Jahangir's eldest son Khusro Mirza, the Mughal emperor Jahangir had conferred the title of Shahi Begum to his wife Manbai.
After this Jahangir married several different princesses, fascinated by their beauty. Let us tell you that in the year 1586, Jahangir married Udai Singh's daughter Jagat Gosan, captivated by her beauty. To whom were born two sons and two daughters.
However, only one of these sons, Khurram, survived, the other child died in infancy. Later, his son sat on the Mughal throne as Emperor Shah Jahan and expanded the Mughal Empire fiercely, while people still remember Shah Jahan for the construction of one of the seven wonders of the Taj Mahal.
Jahangir had five sons from all his wives Khusro Mirza, Khurram Mirza (Shah Jahan), Parviz Mirza, Shahriar Mirza, Jahandar Mirza and Ifat Banu Begum, Bahar Banu Begum, Begum Sultan Begum, Sultan-un-Nissa Begum, Daulat-un-Nisa There were daughters named Begum.
Relationship with Jahangir's favorite Begum Nur Jahan – Jahangir and Nur Jahan
It is said that when the Mughal Emperor Jahangir first saw Mehrunnisa alias Nur Jahan, the daughter of Mirza Ghiyas Bed. So he was so infatuated with her beauty that he decided to marry her. Mehrunnisa was appointed to serve Salima Begum, Akbar's widow, after the death of her husband Alikuli Beg.
In 1611 AD, Emperor Jahangir married Mehrunnisa, a widow on a pedestal on the beauty of Mehrunissa. At the same time, after marriage, Emperor Jahangir gave her the titles of Nur Mahal and Nur Jahan. Along with this, Jahangir also handed over all the powers of his kingdom to Nur Jahan Begum.
Nur Jahan is also known as a courageous woman in history, because she used to help Jahangir in his administration, while Jahangir used to take all the important decisions during his reign on the advice of Nur Jahan. At the same time, in 1626 AD, Nur Jahan Begum built the tomb of Itmad-ud-Daulah, it was the first such building from Mughal architecture that was made of white marble.
Jahangir as Mughal Emperor – Jahangir Mughal Emperor
After the death of Akbar in the year 1605, Sultan Salim was crowned the Mughal 'Badshah' and given the title of Jahangir. At the same time, when the Mughal ruler Jahangir was 36 years old, he took over the responsibility of the Mughal Empire as an ideal ruler and held the Mughal throne for many years.
During his reign, he greatly expanded the Mughal Empire and launched a conquest campaign. Whereas the territories which were not acquired by his father Akbar, he was the first to try to conquer such undisputed territories. The Mughal emperor Jahangir launched his first military campaign against the ruler of Mewar, Amar Singh.
After which Amar Singh was forced to surrender to Jahangir and then there was a peace treaty between the two rulers in the year 1615 AD. Continuing his conquests after the expansion of the Mughal Empire in Mewar, Jahangir began to concentrate in the south with the aim of establishing Mughal hegemony in South India.
Although they could not succeed in controlling it completely, but their successful efforts led to a peace agreement between Ahmednagar, the ruler of Bijapur, and the Mughal Empire, after which some forts and the area of Balaghat were given to the Mughals. .
While Jahangir under the leadership of his son Khurram alias Shah Jahan expanded the Mughal Empire in northern India in the year 1615. During this, his army defeated the king of Kangra and extended his victorious campaigns to Deccan. In this way the Mughal Empire expanded.
Jahangir was a keen lover of painting – Jahangir Painter
The Mughal emperor Jahangir was very fond of painting, he used to collect many different types of paintings in his palace, he also gave great promotion to painting during his reign. Not only this, Jahangir was a great artist in his own right. Manohar and Mansoor Bishandas were the famous painters of the reign of Jahangir.
Jahangir's reign is also known as the Golden Age of Painting. At the same time, the Mughal emperor Jahangir has also written in his autobiography that "any painting, whether it is made by a dead person or a living person, I can immediately tell which painter's work it is."
Read Also – Mini Diva biography And History
The rebellion against his son Khusrau and the assassination of the fifth Sikh Guru – Jahangir and Khusrau Mirza
When the Mughal Emperor Jahangir was taking over the reins of the Mughal throne, his eldest son Khusro, in the greed of getting power, decided to attack his father Jahangir in 1606 AD by a conspiracy.
After which there was a war between Jalandhar's army and Khusrau Mirza near Jalandhar and Jahangir's army was successful in defeating Khusrau and after that he was put in jail.
Khusro died shortly after this. On the other hand, when Jahangir came to know that Arjun Dev, the 5th Guru of the Sikhs had helped in the rebellion against him by Khusro, he got Arjun Dev killed.
Jahangir is remembered for the "chain of justice" – Nyay ki Zanjeer
Jahangir also took appropriate steps to fix the judicial system during his reign as a skilled and ideal ruler. Jahangir himself used to listen to the grievances and affairs of the people. And used to try his best to solve their problems, and get them justice.
For this, Jahangir had tied a gold chain to the Shahburj fort of Agra and a stone pillar situated on the banks of the Yamuna, in which about 60 bells were also hanging, which became famous as the "chain of justice". Actually, any complainant could grab this chain at the time of difficulty and could appeal to Emperor Jahangir for justice.
A lot of cost was spent in making this "chain of justice" about 40 yards long. At the same time, Jahangir is remembered even today for the chain of justice.
Read Also – MeeraBai – Biography OF Sant Meerabai
Death of Mughal Emperor Jahangir – Jahangir Death
In the year 1627, when Mughal Emperor Jahangir was returning from Kashmir, he died due to deteriorating health on his way to Lahore (Pakistan). Thereafter, Jahangir's dead body was temporarily buried in the fort of Bagsar, built on the banks of the Ravi River in Lahore.
Then later there was a grand mausoleum of Jahangir built by Jahangir's Begum Nur Jahan, which is still the main center of tourist attraction in Lahore. On the other hand, after the death of Jahangir, his son Khurram (Shah Jahan) became the heir to the Mughal throne.
Autobiography of Jahangir – Jahangir Book
Jahangir was also very fond of writing, the book Tuzuk-e-Jahangir started by Jahangir, the autobiography was completed by Mautbind Khan. In this way, Jahangir lived his whole life in ash-o-comfort.
And his bad addiction to alcohol had ruined his body. However, Jahangir did not fight some important battles in his life, but did not let the strong foundation of the Mughal Empire laid by his father Akbar weaken. Jahangir is known for his generosity and generosity.
Note : You have more information about King Jahangir History in Hindi. Or if there is anything wrong with the given information, then immediately write us in the comment and email, we will keep updating it. If you like Life History Of Jahangir in Hindi language then definitely share us on Whatsapp and Facebook.