How to Edit CapCut Templates: A Comprehensive Guide for Stunning Video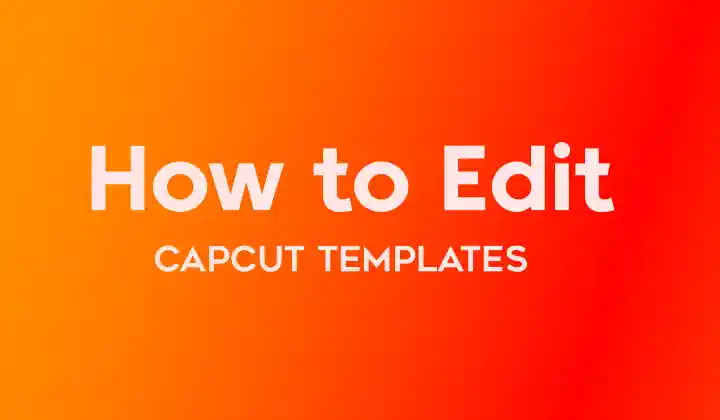 In today's digital age, visual content holds immense power in capturing the attention of online audiences. Video editing has become an essential skill for content creators, marketers, and social media enthusiasts. CapCut, a popular video editing app, offers a wide array of templates that can make the editing process faster and more efficient.
In this guide, we'll delve into the step-by-step process of editing CapCut templates to create captivating videos that stand out.
Why Choose CapCut Templates?
CapCut templates are pre-designed video layouts that incorporate various elements like transitions, effects, and text animations. These templates are a valuable resource for both beginners and experienced editors, as they provide a solid foundation to build upon. Using templates can significantly reduce editing time and effort while ensuring a polished end product.
Step 1: Selecting the Right Template:
The first step in editing CapCut templates is choosing the one that aligns with your video's theme and message. CapCut offers templates for a variety of purposes, from vlogs to tutorials, fashion lookbooks to travel diaries. The template you choose should resonate with your target audience and complement your content try CapCut Downloader.
Step 2: Importing Your Footage:
After selecting a template, it's time to import your own footage. CapCut allows you to upload videos and images from your device's gallery. To do this, click on the "Import" button within the app and select the media you want to include. Once imported, you can drag and drop your files into the template's designated placeholders.
Step 3: Customizing Text and Titles:
Most CapCut templates come with text placeholders for titles, captions, and subtitles. Double-click on the text boxes to edit the default text. You can change the font, size, color, and alignment to match your video's style and branding. Ensure that your text is concise, engaging, and easy to read.
Step 4: Editing Transitions:
Transitions enhance the flow between different scenes and segments in your video. CapCut templates often include pre-set transitions, but you can customize them to suit your preferences. To edit transitions, click on the transition points between clips and select the desired transition style from CapCut's library. Adjust the duration and timing to create a seamless and visually pleasing transition effect.
Step 5: Adding Effects and Filters:
CapCut offers a range of visual effects and filters that can enhance the mood and tone of your video. Experiment with effects like color correction, overlays, and animations to elevate your video's visual appeal. Make sure the effects you choose align with the overall theme of your video and maintain consistency throughout.
Step 6: Incorporating Music and Audio:
Audio is a crucial aspect of video editing. CapCut allows you to add background music, sound effects, and voiceovers to your videos. Choose music that complements the emotions and atmosphere you want to convey. Adjust audio levels to ensure a balanced mix between the background music, voiceovers, and the original audio from your footage.
Step 7: Fine-Tuning and Reviewing:
Before finalizing your edited video, take the time to review each element. Watch the video from start to finish to ensure that transitions are smooth, text is error-free, and audio is well-balanced. Make any necessary adjustments to achieve a polished result.
Step 8: Exporting the Video:
Once you're satisfied with your edits, it's time to export the video. CapCut provides various export options, including different video resolutions and aspect ratios suitable for different platforms like YouTube, Instagram, and TikTok. Choose the appropriate settings based on your intended platform and audience.
Conclusion –
Editing videos using CapCut templates is a creative and efficient way to produce high-quality content that resonates with your audience. By following the steps outlined in this guide, you can leverage CapCut's features to transform raw footage into visually captivating videos.
Remember, practice makes perfect, so don't hesitate to explore different templates and experiment with various editing techniques to develop your unique style. Start using CapCut templates today and elevate your video editing game to new heights.