5 Best Adobe Acrobat Alternatives: Cheaper or Free
Adobe Acrobat is one of the best PDF editors to date, but among its cons, the biggest one is that it does not come with a cheap price tag. Moreover, the interface seems somewhat outdated, and it also misses some important features. Looking for the best Adobe Acrobat alternatives will be the best solution to all these problems.
So, in this article, we will discuss some cheaper and free alternatives that you may try.
Part 1. 3 Best Cheaper Alternatives to Adobe Acrobat
Let's start with the alternatives that do come with a price tag, but they are much cheaper. These paid Adobe Acrobat alternatives provide much better features and functionalities as compared to most free options. So, here are our top 3 picks for alternatives that are way cheaper than Adobe Acrobat.
1. UPDF – Cheaper Alternative to Adobe Acrobat on Windows, Mac, Android, and iOS
UPDF is your one-stop solution for PDF management and editing. It combines a powerful feature set with a user-friendly interface. Its advanced features include ChatGPT integration that assists users in multiple ways, while optical character recognition (OCR) quickly transforms scanned documents into editable text.
With batch processing, you can easily manage many documents. Security is crucial, and password protection ensures the safety of your files. With UPDF Cloud, you can manage and view PDF files from any location and at any time. The cost-effectiveness of UPDF is extremely beneficial since it offers a single license for up to four devices, ensuring broad accessibility across your devices.
UPDF Over Adobe Acrobat in:
Built-in ChatGPT integration for summarizing, generating, translating, and reviewing content
One license works on all(4) of your devices without requiring any additional payment
Polished batch processing feature with 6 different functionalities
A much lighter tool that does not require high-end hardware for good performance
UPDF Cloud built-in cloud storage dedicated to managing and syncing PDF documents
Subscription-based and perpetual licenses are available
Here is a detailed comparison of prices offered by UPDF and Adobe Acrobat Pro
| | | |
| --- | --- | --- |
| Software | UPDF | Adobe Acrobat |
| Free Trial | $0 | Not available |
| Monthly | Not available | $29.99 |
| Annual paid monthly | Not available | $19.99 |
| Annual prepaid | $29.99 | $239.88 |
| Perpetual | $49.99 | Not available |
UPDF clearly has more and better plans available for its customers. The best part is that the pricing is extremely competitive with exponential differences, and if you get a perpetual license, you can use it for a lifetime without ever requiring any other payment. So, purchase UPDF Pro today and unlock all the premium features available.
2. PDF Expert – Cheaper Adobe Acrobat Alternative on Mac
Famous for being a more affordable alternative to Adobe Acrobat, PDF Expert is a well-known PDF program for the Apple ecosystem. PDF Expert makes PDF editing easy for users of different levels of skill. Its key features include fluid editing and annotating tools that let users quickly change text, photos, and links.
It can extract text from scanned documents using the OCR feature. Users can fill out and manage PDF forms and password-protect documents. It provides a multi-tabbed interface to allow for easy switching between numerous PDFs. With its one-time purchase option, PDF Expert stands out as a strong yet affordable PDF management solution for Mac users.
PDF Expert Over Adobe Acrobat in:
Better customer support
Much simpler and easier user interface as compared to Adobe Acrobat
Good hardware optimization
Perfect compatibility within the Apple Ecosystem with multiple awards over the years
Users have complete control over how their files are shared and stored
3. PDF Candy – Cheaper Windows Adobe Acrobat Alternative
PDF Candy is a more affordable alternative to Adobe Acrobat for Windows users. With its wide range of 46+ functions, PDF Candy makes it simple to convert, merge, and divide PDF files as well as do other PDF-related operations. Users of the platform can effectively modify PDF content, extract photos, and convert PDFs between different formats.
It also has OCR capabilities for modifying text extracted from scanned documents or photos. PDF Candy protects your documents with password-protect features, and users can also add watermarks.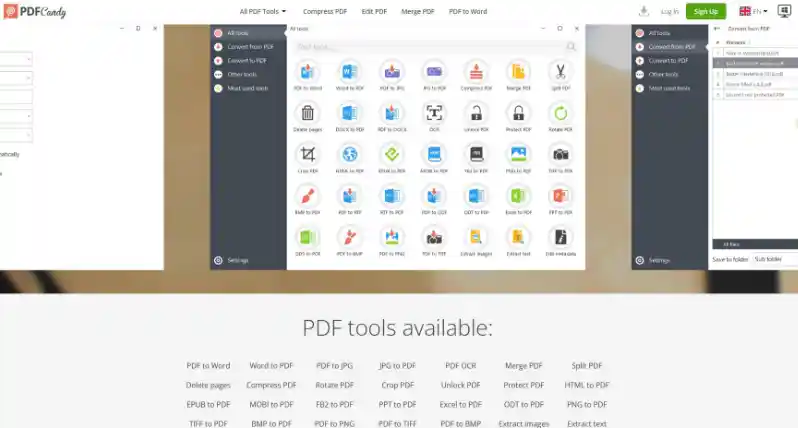 PDF Candy Over Adobe Acrobat in:
Anonymity for free users since they can utilize the free version without any account
Supports batch processing feature with a simplified experience
A very well-designed interface makes a huge range of features easier to use
The free tools can be used for unlimited time without a subscription, unlike the limited trial on Adobe
The web-based version provides a better performance with quick processing as compared to Adobe
Part 2. 2 Best Free Alternatives to Adobe Acrobat
Are you looking for a completely free alternative to Adobe Acrobat? Some online tools provide a comprehensive experience, with the only drawback being online usage if you don't download the desktop version. However, these tools come with their unique advantages over Adobe Acrobat and here is all you need to know about the 2 best free alternatives:
1. iLovePDF
iLovePDF can be accessed from any device with an internet connection. It has a wide range of functions and is specifically designed to make it easier for users to combine, divide, and compress PDFs. With the ability to convert PDFs between formats like Word, PowerPoint, and Excel, users can make sure that the material is accessible and editable.
With its powerful OCR engine, iLovePDF makes it easy to extract text from scanned documents, and its editing and annotation capabilities let you make simple changes and add notes. Users can effortlessly manage their PDFs anytime, anywhere, thanks to its online operation with a reliable performance.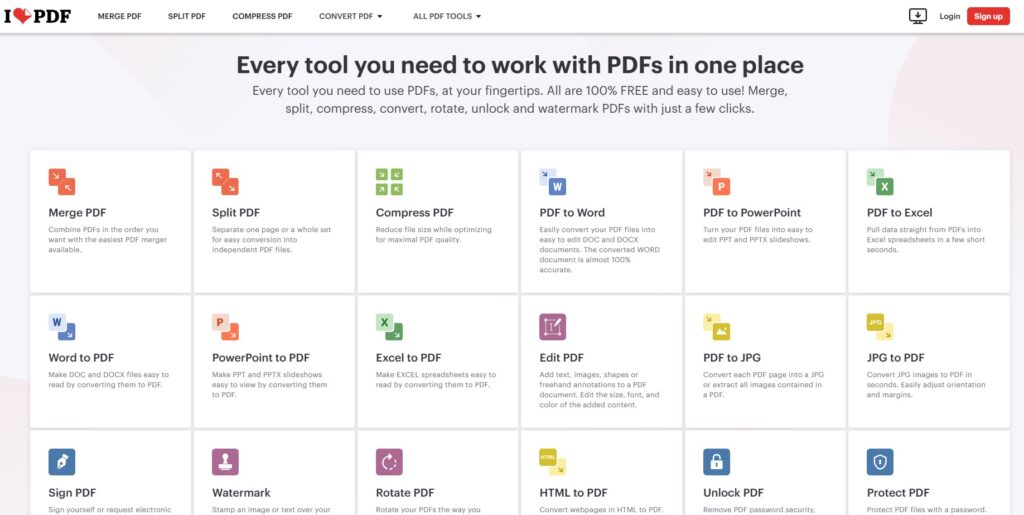 iLovePDF Over Adobe Acrobat in:
Anonymity since you can work without login or signup
Integration with multiple cloud storage options
Web-processing does not require high-end hardware
Easy QR sharing to download files
Dedicated mobile app available for editing PDFs
2. SmallPDF
SmallPDF offers a wide range of features in a straightforward, user-friendly interface. Users may easily merge, divide, and compress documents, modify PDF content within the platform, and convert PDFs to multiple formats (and vice versa).
Additionally, SmallPDF supports OCR technology, which enables text extraction from scanned images, as well as e-signatures, which facilitate safe document signing. SmallPDF meets a broad range of user needs by emphasizing the provision of an open, safe, and adaptable PDF solution.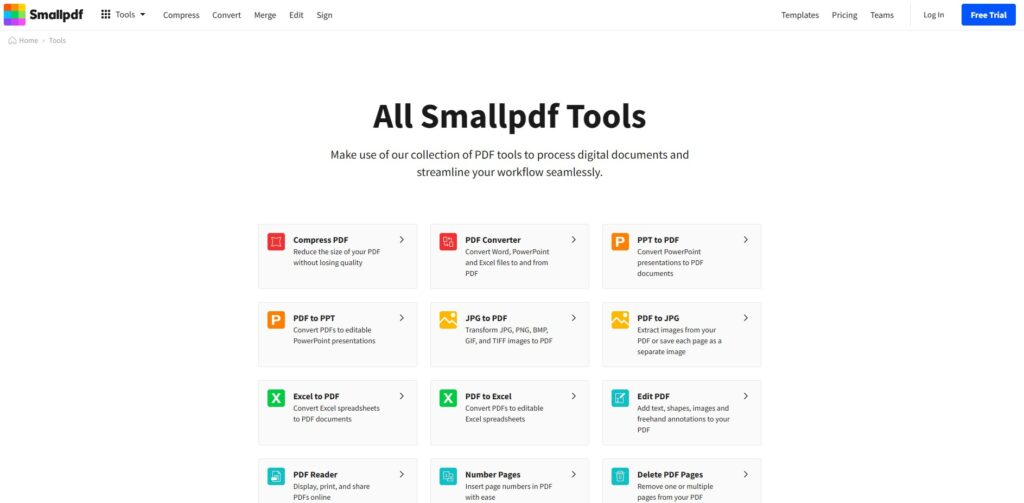 SmallPDF Over Adobe Acrobat in:
Integration with third-party cloud services
Supporting batch processing for compression, merging, and conversion
API access and integration
Updated and easy-to-use interface
Automated file deletion for added security
Part 3. FAQs About Adobe Acrobat Alternatives
Q1. What is the best open-source alternative to Adobe Acrobat?
LibraOffice Draw is the best open-source Adobe Acrobat alternative. It allows creating and editing PDF files and can be used for working on graphical elements in a PDF document. Although it is a free option, the interface may seem a little outdated, and it may lack some features in comparison to premium alternatives, if you are looking for an open-source alternative, LibreOffice Draw is the best pick.
Q2. What is the best Adobe Acrobat alternative for Linux?
Developed by KDE, Okular is the best document-viewing software available on Linux, which makes it a good alternative to Adobe Acrobat. Being a universal document tool, it supports many formats including PDF and comes with basic PDF annotation and form-filling features. However, it may not provide as many editing capabilities as Adobe Acrobat.
Q3. What is the Best Free Adobe Acrobat Alternative on Mac?
If you only need PDF viewing and annotating capabilities on your Mac, then Preview will be the best free alternative to Adobe Acrobat. However, for in-depth editing features, you can try UPDF. It has a free trial version, which allows you to use all features and only add watermarks on your exported PDF.
Final Words –
Adobe Acrobat may bring some of the best PDF editing features, and that's the reason why it is one of the most successful and famous PDF editors. However, it is not a feasible option for everyone, considering the hefty price tags. If you were also looking for an alternative to Adobe Acrobat, we hope that this article has unveiled some of the best options.
If you want a comprehensive PDF experience regardless of the device you use, try UPDF. It is available on smartphone and computer platforms, and you can download it for free. To enjoy the wide range of premium features offered by UPDF, you need to purchase the Pro version. This way, you will never need another tool to work on your PDF documents again.